What JMS One does
JMS One is a fully comprehensive staffing software package, aimed at simplifying workforce management by bringing everything together in one system
Through our workforce management tool, you'll make the most of innovative technology, purpose-built to improve efficiency, consistency and overall performance.
Key Features

Create automated rotas rapidly
One of the features we're most proud of is our cutting-edge rota generation module.
You can now create fully automated real-time staff rotas with JMS One's powerful new technology. improve efficiency, consistency and overall performance.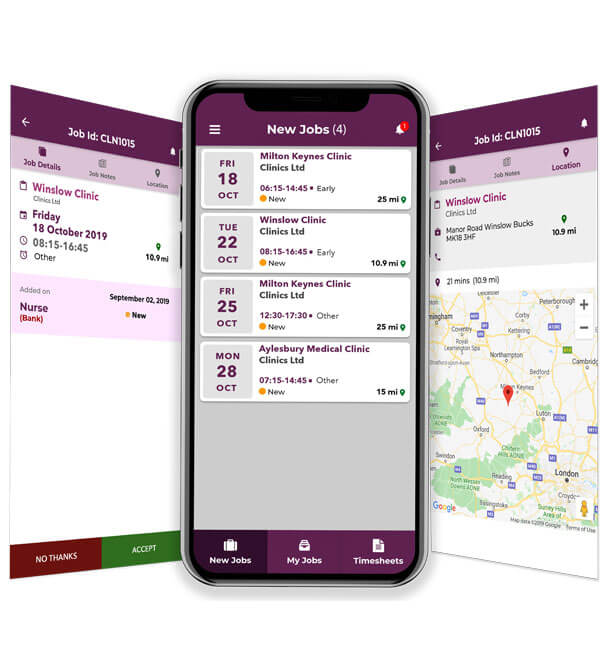 User-friendly mobile app
Usability is the most important feature of any modern workplace tool, so our user-friendly mobile app is intuitive, slick and easy to navigate for healthcare staff.
JMS One App instantly notifies your staff members on new shifts posted. Shifts are accepted within minutes of posting.
Efficiently filling your staffing level requirements with minimal admin input.

More control over your agency spend
It can be difficult to keep track of different costs when you're using different systems and databases.
That's why our integrated, comprehensive software lets you monitor your agency spend with total accuracy.
This table shows how each of our module can be used for different staff types
| | Permanent | Bank | Agency |
| --- | --- | --- | --- |
| Recruitment | | | |
| Rota / Scheduling | | | |
| Absence & Leave | | | |
| Time & Attendance | | | |
| Timesheet Management | | | |
| Vacancy Bookings | | | |
| Training & Compliance | | | |
| Payroll Connect | | | |
| Invoicing | | | |
| Reports | | | |
| JMS One App | | | |